What good is your website if nobody ever finds it?  Sadly this is the predicament hundreds of Vancouver Island business owners find themselves in when they choose a web design company that knows a lot about design (or not) and very little about Internet Marketing.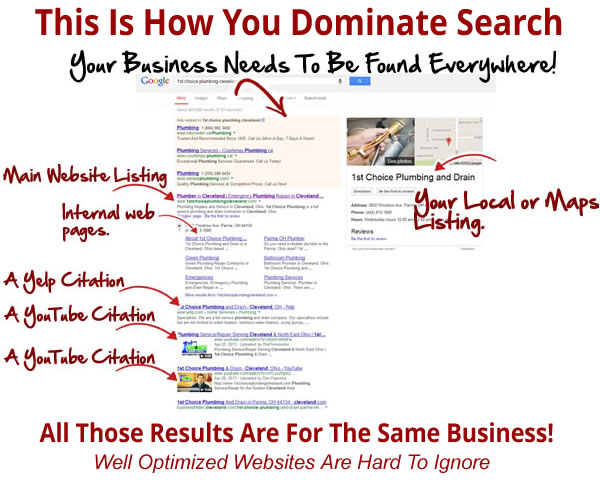 It's not as simple as "if you build it they will come".  Your website will only become a lead generation machine for your business if people are finding it regularly in search engines when they search for your services.  If you aren't ranked at the top of the local maps listings and organic search then your competition is stealing your customers.
There Are Two Main Factors That Drive Your Search Ranking
On page SEO (search engine optimization) and "off" page SEO.  There is a major difference between the two, most web designers fail miserably at both (but still charge money for what they do, it's ridiculous!)

Onpage SEO is what's happening ON your website.  This is stuff like your page titles, your keyword targeted content, your overall page structure, the proper use and tagging of images, a blog, H1, H2, H3 tags and more.  This is where it starts though.  If your website has poor "on page" SEO there is no amount of "off page" SEO that can fix it.  Your website will never rank well, period.  Often times, if the client has built the site themselves, or hired someone else who had no idea, the site usually needs to be rebuilt from scratch to get the best "on page" SEO.

Off-page SEO is what's happening OFF your website.  This is where you really start to see some gains in your ranking and traffic if you're working with a competent marketer.  Off page SEO could include such tasks as getting listed in trade specific directories for your type of business, or getting listed on websites like the local Chamber of Commerce or Better Business Bureau.  There are also many local business directories that are also great places to get listings from as well.  Getting listed on these local and relevant websites helps boost your importance.  Google and other search engines count these as "votes" for your website.
Qualicum Beach Web Design will develop an SEO strategy for your business that will incorporate rock solid on-page SEO along with the necessary off-page SEO to get your website in front of your potential customers.
Three Types of Search Engine Optimization For Local Businesses
#1.  Local Search:  These are the Google maps listings (we call it the 7 pack in the Internet Marketing biz) and these listings are instrumental in driving targeted customers to your business via the web.
When your website is optimized properly for local searchers your website and business contact information will be displayed to the searcher next to your maps listing.
Important Local Search Ranking Factors
Targeting locations with your content
Solid "on page" optimization
Strong local citation profile
Strong local review profile
A local phone number and physical address (not a PO box)

#2. Organic Search:  These are above and below the Google maps listings and are considered the "standard" search results.  The maps listings don't actually show up for every keyword phrase or service so it's important to have strong organic search ranking so that for those particular searches where a local result won't display your organic result will.
As an added bonus when you are well optimized both locally and organically your website will actually start to get more than one listing on each search results page.  It's quite possible you could be the business ranked in the top 3 spots.
Important Organic Search Ranking Factors
Target locations with appropriate content
Target your services with appropriate content
Solid "on page" optimization
An active and relevant blog with fresh content
A strong backlink profile (other relevant sites linking to you)
A strong citation profile
#3.  Paid Search: Pay-Per-Click or PPC listings are right at the top of the search results.  You can be there in as little as 1o minutes but the catch is that it costs money everytime someone clicks on your ad.  Those clicks aren't guaranteed leads or sales either, they are only web visitors and it's one of the pickiest demographics.  Proper pay-per-click campaigns take a great deal of time and effort to construct, the good news is that most small business owners try and do this themselves, or they let a Google Rep set the campaign up for them (bad idea – Google makes money on the clicks!!!).
Important Paid Search Ranking Factors
Develop targeted landing pages for each keyword
Split testing ads against each other to improve performance
Working to improve your landing page "quality score"
Careful keyword research
Track and Analyze
If you see a local business (or one of your competitors) in the paid ads for a period longer than 2 or 3 months it's most likely because the ad is making them money.
How does your small business website rank in search engines for your local services?  Are you getting beaten badly by your competition?  If so, we can help you.
Qualicum Beach Web Design are SEO specialists for small, local businesses that provide services to a local area.  We can help develop a strong local ranking strategy, organic ranking strategy and even help you setup and monitor a proper pay-per-click campaign.  If you feel your business website could use our help let's setup a time to speak.