Looking for a Web Designer in the Qualicum Beach and Parksville area?  Qualicum Beach Web Design provides website design services for local small business owners on Vancouver Island.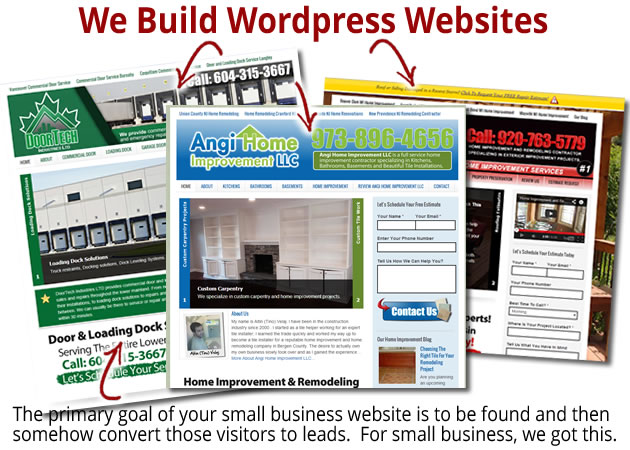 We build our websites using the WordPress platform with the very popular Genesis Framework. We focus on building clean designs that showcase your services and make it easy for you (or us) to continue building out the website as your business grows.  Our designs work exceptionally well at converting your local traffic into qualified leads for your services.
We build Websites For
Contractors
Restaurants
Home Improvement Companies
Plumbers
Artisans
Consultants
Tourism Companies
And More!
If your business provides a service within a local area, to a specific city, town, or community then we can help you.
Do You Need A Custom Design or Something Simple?
Here are several current client websites that we built and still actively manage.  They are nice looking sites that get results for our customers.
---
Many business owners have come to us with grandiose ideas for their websites about how they want it to look, what they'd like it do, and how much they think it should be worth.  We don't work like that.  We aren't artistic designers, probably never will be and don't really care about that aspect of web design.  We like to focus on getting a customer traffic and results first.
This is why we work with frameworked designs that are based off successful and proven website formulas that we've been using for our North American customers since 2008. We firmly believe small business owners are better off investing their website money into a proven design for their type of business.  Once you have the website design it's then a matter of filling it with exceptional content that showcases you as the solution to your customers problems.
When a small business owner thinks they need a radical and expensive custom website design more often than not… It's a failure and a very expensive lesson for the business owner.  A snappy design doesn't automatically equal traffic, leads and piles of cash from the Intrawebs.
What Type Of Website Design Does a Small Local Business Need?
For most business owners (that provide a service) you need to have a website that communicates a crystal clear purpose.  What your company does should be obvious in the first 3 seconds of your visitors interaction.  Next they need to know how to contact you within the first 5 seconds too.  They should NEVER have to look.
Having a design that get's your visitors to act is one thing.  As a business owner with a website you still need VISITORS and this is where many web designers simply fall short.  They don't know how to generate traffic, nor build a site that attracts traffic from the search engines.
Local businesses aren't promoted the same way as "national brands" because most small business owners simply aren't working with those kind of budgets for "branding".  Most small business owners just want more people to speak to, provide estimates too, send proposals too, and aren't worried about becoming the next canada-wide franchise.
Internet Marketing for small business owners who provide a local service is getting more competitive.  As the years progress more and more businesses are coming online and it's important you choose a website design company that keeps up with the changing pace of local business marketing online.
When you choose Qualicum Beach Web Design to build a website for your small business you're not just getting a web designer.  You're getting a small team of seasoned Internet Marketers with several highly successful websites under their belt and dozens more client websites that are generating leads and sales for our small business customers.
If you think your business could use our help then let's schedule a time for a quick phone call so we can learn a little more about your business!